Vis 1 - 6 av 452
Thank you ChinaLoveCupid!
"

On July 1, 2011 my friend Chris told me about a site called ChinaLoveCupid where he met his wife. I warily signed up and on July 2, 2011 my life changed in a wonderful way. That is the day I met my beautiful fiancee Ping. We began talking and in a short amount of time knew we had both found the person we had long hoped for. The fact that we were half way around the world from each other mattered little. I flew to China and on November 27, 2011 les mer >> met Ping in person and our love was proved true. After meeting Ping's family and friends who welcomed me warmly I spent the most incredible two weeks with my future wife. We are engaged and will marry in late summer or early fall 2012. I was always skeptical about testimonials but ChinaLoveCupid has changed our lives in a most wonderful way. It is true there is always someone for you in this world. Faith, patience and ChinaLoveCupid proved that to be true. We will be forever grateful to ChinaLoveCupid. Jerry and Ping. << skjul tekst

"
Jerry & Ping
Thanks ChinaLoveCupid!
"

Thanks

"
Jose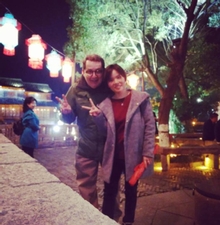 We are both very lucky!
"

Found my True love here. We are both very lucky!

"
Veronica
Thank you for now Its all about her
"

Thank you for now Its all about her.. More later.. I thank you so so much

"
Andrew
I met my girlfriend Lu Jun Rui on China Love Cupid in September 2018. I wasn't on the site for long. I immediately got her wechat information and we began talking.
"

I met my girlfriend Lu Jun Rui on China Love Cupid in September 2018. I wasn't on the site for long. I immediately got her wechat information and we began talking. For our first date, I took an overnight sleeper train to Beijing to see her. Our first meeting went very smoothly. It was like we had already known each other for years. I hear from friends that China Love Cupid is the most popular and convenient dating site in China, especially for les mer >> Western men like myself. I think I made the right choice\. My girlfriend and I are planning on getting married during Spring Festival next year. << skjul tekst

"
Marcus